Functions of a Project Management Office (PMO) are explained in this article. More and more project-oriented organizations are setting up a Project Management Office (PMO) and it is not always entirely clear what the functions of the Project Management Office should be.
For project-based organizations, it is becoming more common to set up a PMO or a similar organizational unit to monitor project activities. However, during the planning or early stages of setting up a PMO, it can sometimes be difficult to determine the functions of the project management office because PMOs can be very different. There is no comprehensive list of all the roles and responsibilities a PMO can potentially assume. Nonetheless, this article provides an overview of the core functions that project management offices commonly perform in organizations.
Common Functions of a Project Management Office
The functions and tasks listed hereafter can be described as the core activities of the majority of PMOs. However, every project management office is different. The size, shape, field of activity of the organization, corporate culture, and leadership style are some of the factors that together define the place and role a PMO should have to maximize its value to an organization.
In almost all cases, the PMO provides a good project management template set, which simplifies and accelerates many processes. The acquisition costs are low compared to the savings and are often amortized within a very short time.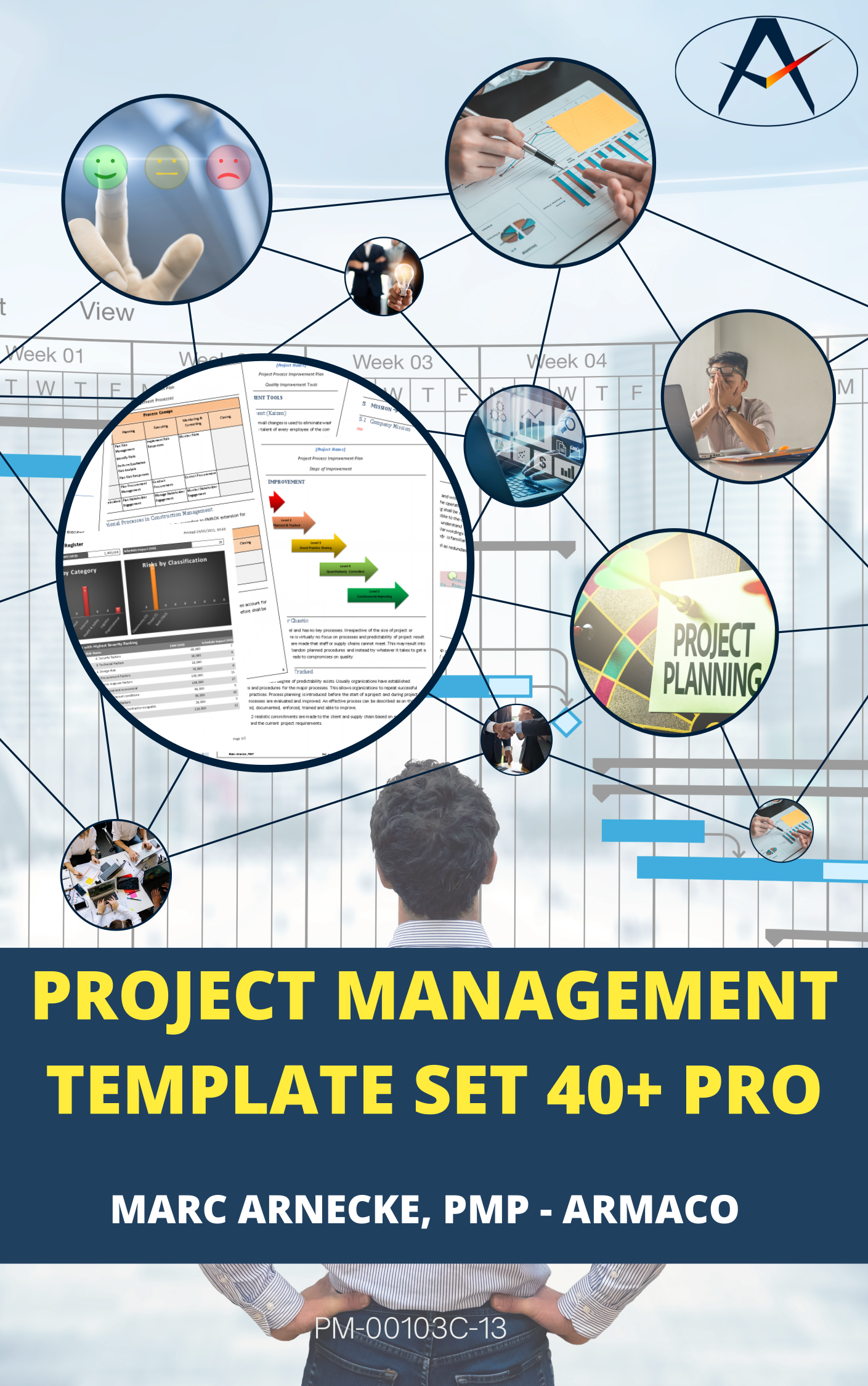 Monitoring and Controlling of Project Execution
Monitoring and tracking are some of the key functions of the project management office. Most of the motivation for setting up a PMO is related to the need to improve the speed, quality, and reliability of project delivery. To deliver results in the area of performance, a PMO monitors the project life cycle to ensure projects stay on time, on budget, and schedule. The PMO's control over project activities also includes ensuring the satisfaction of primary and secondary stakeholder requirements and meeting any other requirements that may be tied to the performance of the project.
To achieve this, PMOs consolidate and process large amounts of project-related data and turn them into information. They track and report on progress throughout the project lifecycle through to completion to make activities and work steps more reliable. Some PMOs will "lend a hand" and actively participate in the execution and follow-up of the projects, while others will focus more on supporting the project managers to ensure smooth implementation and project success.
In addition, a PMO can improve project performance by assisting other groups involved in project management. Getting general or knowledgeable advice from project portfolio management (PPM) specialists can be invaluable for teams, as it is not uncommon for projects to be carried out by technical or operational staff with no specific project management knowledge or experience. A PMO can assist with planning, scheduling, procurement, and all activities related to execution and tracking. Project teams can leverage the PMO's knowledge of project portfolio management standards and practices and their expertise to avoid implementation issues and ensure projects stay on track. Even for professional project management teams, the advice, insight, and support of a PMO can be an invaluable resource for continued learning and improvement. Finally, PMOs can assist project managers by performing advanced, specialized tasks for or on their behalf.
Development and Improvement of Project Management Methods
Establishing a project management office is usually the starting point of a Project Portfolio Management (PPM) structuring process in an organization. PMOs define and implement methods for standardizing project management activities and processes within the organization. They issue guidelines on how a project should be managed throughout its entire cycle - from creating the first business case to managing its implementation.
The best practices, standard metrics, and repeatable processes implemented by the PMO ensure greater consistency between project management teams, make different projects in different areas comparable, and improve overall project performance. Wherever possible, the project management office standardizes these processes across all business areas and departments at the organizational level.
As the custodian of the project portfolio management processes, the PMO formalizes these methods and practices in a coherent project charter that should be made available to all groups involved in the project activity and developed over time to reflect changes in the business environment, market conditions, or corporate strategy. Depending on the form, industry, and corporate culture, a PMO may prefer different project management methods, such as waterfall, agile, or others. More and more PMOs are choosing to get the best of both worlds by developing their specific hybrid processes.
Provision of Tools and Templates
At the initiative of the project management office, the organization typically selects, procures, and implements professional software to accelerate and simplify project portfolio management activities.
In almost all cases, it makes sense to purchase a good project management template set, which simplifies and accelerates many processes. The acquisition costs are low compared to the savings and are often amortized within a very short time.
Contrary to a popular misconception, PPM tools are not restricted to large companies and mega-projects. Even smaller businesses can benefit greatly from implementing tools specifically designed to consolidate data and automate tasks. No organization can afford to miss the opportunity to increase productivity, improve data quality, and optimize the use of resources!
PPM software breaks projects down into phases, deliverables, tasks, and activities to improve management, add granularity to track, and leverage data intelligence. Robust tools provide a range of management and analysis functions, including simulation functions and advanced analysis.
With their PPM expertise, the PMO will be instrumental in choosing the right tool for the business, assessing configuration requirements, carrying out the implementation, and driving user adoption. Since such tools usually require at least some level of training - especially for non-professional project managers - the project management office also leads the development of skills through a range of more or less formal training programs and initiatives.
Program and Portfolio Management
A project management office usually proves extremely useful when it comes to multi-project management. Due to the shared use of resources, including human resources, equipment, machinery, facilities, etc., the various projects that are carried out within an organization are always interdependent in a certain way. With its cross-departmental view of project activity, the project management office can ensure that such dependencies and restrictions are anticipated, understood, and managed promptly to support the success of individual projects and ensure overall optimization.
PMOs are also perfectly positioned to improve the management of programs - collections of related projects - and project portfolios. Unlike regular project managers, who usually have to focus on their operational tasks, a PMO has the big picture and can take a step back to assess the balance and health of the organization's programs and portfolios and make or recommend adjustments if necessary.
Managing programs and portfolios involves making investment decisions. The point is to ensure that the resources available are used optimally, taking into account a variety of parameters such as risk, the likelihood of success, strategic outcomes, market factors, implementation considerations, etc. The PMO helps to collect, maintain and analyze relevant data across several business areas. Equipped with this knowledge, experienced PMO leaders can act as important advisors for executives. They can provide insights to help business leaders make informed and wise investment decisions regarding the organization's portfolios. Indeed, this is one way a project management office can demonstrate its usefulness and value to the executive level.
Strategy
Managing the realization of business benefits is one of the most important functions of a project management office. PMOs evaluate and classify the project ideas based on predetermined criteria to make a strategic selection of potential projects. It can analyze potential candidate projects to identify the ideas that best align with the organization's strategic goals, build solid, strong business cases with compelling value for money, and then track the benefits throughout the project life cycle to ensure the realization of the expected results.
To facilitate and standardize the selection and prioritization of projects, the project management office implements special processes and governance systems. It ensures that proper tools are used to collect data and track project progress, set and maintain standard criteria and selection processes, and define collaboration and decision-making mechanisms to clarify management and control responsibilities among stakeholders.
Resource Optimization
Unless resources are limitless, optimizing the use of talent, funds, and means of production is likely an everyday task for every organization. Project management offices help manage resources more effectively and improve the process of planning and allocating resources across all projects. With visibility into schedules, budgets, project requirements, resource availability, and workload, they can define and manage priorities to deliver the right resources to the right projects at the right time.
This is particularly useful when it comes to critical resources - whether it's staff, equipment, machinery, facilities, vehicle, or software - that need to be shared across projects. The project management office ensures their availability and ensures that the resource requirements for each project are met.
It is equally important to ensure that the resource pool is used to the full to avoid financial waste and to keep the team motivated. Computerized simulations and what-if analysis enable the project management office to plan and ensure that resource allocation and utilization are optimized over time.
Improvement of Working Conditions
The PMO not only improves the allocation of resources to the activities but also ensures the quality of the work environment and promotes collaboration. It spreads a common culture, language, and mindset among employees and departments in the organization to harmonize work practices and facilitate collaboration. Common key performance indicators (KPIs) and metrics, collaboration tools, common processes, and best practices within and between projects improve synchronization and productivity. Increased interactions between different teams also encourage creativity and versatility - as staff can learn from each other - and tends to improve the employee experience. The efforts of the project management office should help create a work environment that is characterized by a culture of trust and constructive feedback.
The importance of communication in connection with project activities is often underestimated. Since companies typically carry out similar projects, teams can benefit from the experiences of their colleagues from other business areas. A project management office makes a great contribution to increasing and improving communication within the organization by using a range of communication tools and channels: project management tools with communication and collaboration-oriented functions, etc. The PMO can also be very useful, to prevent misunderstandings or conflicting communications between teams.
Last but not least, the PMO can close the gap between strategic decision-makers and the operational business by passing on the decisions and orientations of the management level to the project management teams.
Evaluation of Current Processes and Improvement through Targeted Training
Project management offices also provide ongoing communication for teams and employees to inform them of industry best practices, new methods, or management techniques. The PMO is obliged to keep up to date with project management-related innovations and new developments. By participating in trade fairs, specialist conferences, and events, it can get to know new ideas or be inspired by the experiences of other organizations. Then it will pass this knowledge on and make sure it is absorbed and put into practice within the organization.
Project management offices also provide training for project managers and project teams to ensure their skills are and will be kept up to date. To optimize staff fitness levels, they can encourage key individuals to participate in certain project portfolio management certification programs such as that of the Project Management Institute (PMI). PMOs regularly organize workshops, conferences, or other learning modules and offer the teams ongoing support and coaching. The support and training should ideally go beyond the project teams and also include those responsible for the project and senior stakeholders who are not always fully aware of the requirements of the project management activity.
In general, a project management office plays a key role in institutional learning. It captures and disseminates lessons learned from the past by archiving and analyzing all documentation on completed projects to provide actionable insights that can help to ensure the organization doesn't make the same recurring mistake over and over again.
Conclusions
A project management office is a multipurpose organizational unit that can assume a variety of roles and functions in an organization.
The most common functions of a project management office include:

Ensuring the monitoring and control of project execution,
Development of project management methods,
Implementation of professional PPM tools,
Coordination of program and portfolio management,
Simplification and improvement of strategic project management,
Optimizing resource allocation and maximizing resource utilization,
Creation and maintenance of collaborative work environments, and
Provision of information and training on institutional improvement.

This list of core functions should not be considered exhaustive. Ultimately, the functions of a PMO should be tailored to the individual needs and capabilities of a particular organization.