Project plan templates - your first step to project success
If you've never written one before, you might ask yourself how to write a project plan and will be surprised at how much work and time you have to put into it.
No worries, you are lucky 🍀. I can help you save your weekends...
Download these 100% editable project plan templates that will get you started quick and easy. Almost 3000 downloads speak for themselves. Unlike many other sets, you actually get a complete set with a wide variety of templates and not a few templates with different designs. Everything is geared to each other and completely customizable.
Everything you need for your successful project in one comprehensive set including plans, registers, documents, and forms.
Imagine you are the project manager for the new project that your boss puts emphasis on
Consequently, many questions come to your mind, and you ask yourself how to write a project plan.
What is the exact scope of work?
Where from do we get the resources?
How long is it going to take?
What is it going to cost, and how do I control the budget?
There must be certain risks, what am I going to do about them?
What about the reporting...?
Who else is involved in the project and how?
Where do I get the material from?
We need to keep quality in mind...
…
Several years ago I was wondering how to write a project plan. I invested a lot of time and effort in it and it took me several weekends to create a complete template set. Of course, you can also spend your weekends on it, or you take a big step ahead, save your weekends and use my project management plan templates.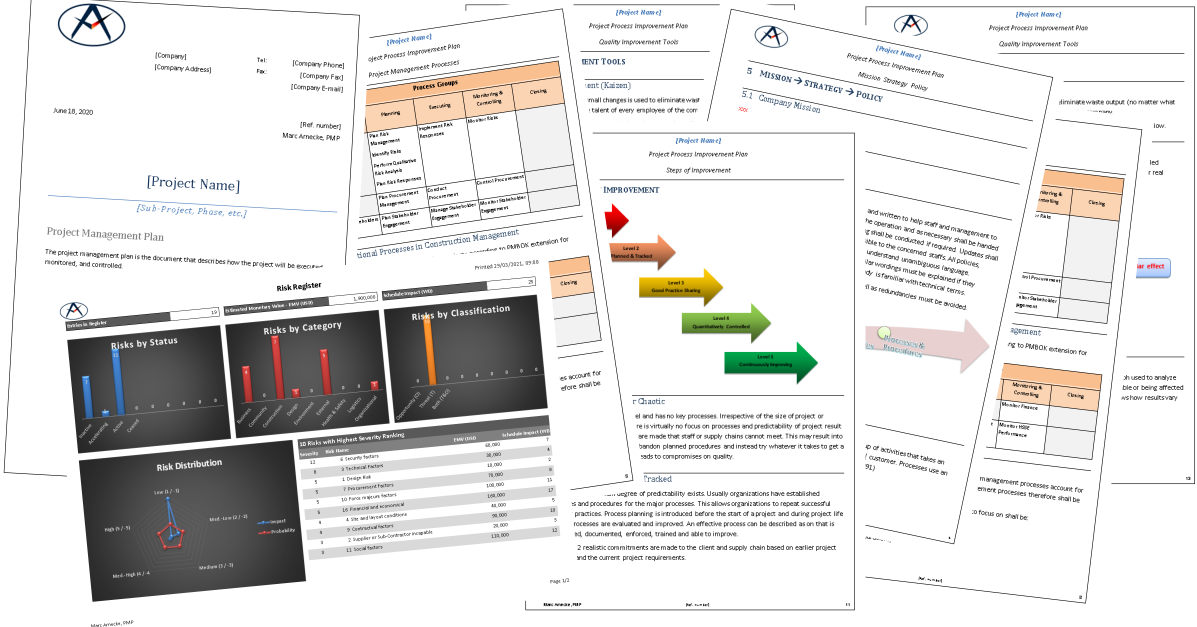 Would you like some free project plan template samples and other helpful things?
Tell me where to send the download link
Who are these project management templates for?

Many professional project managers have already downloaded my project management templates and used them successfully in their projects.
Numerous students have downloaded my templates and used them as a handy resource for their project management studies.
More than 8000 downloads speak for themselves. Only 4.5% returned the templates because they weren't happy or had other ideas.
How are these templates useful for you?

To simplify your task of writing a project management plan, I give you the complete structure. This saves you a lot of time and effort and you can be sure that you do not forget any essential subject. Why would you start from scratch when I have done a good amount of work already for you?
Save time, effort and money. With this template set you choose a good start. An important step on the way to creating your next project plan is already done for you.
What you get…
Project management plan templates, related documents and registers.
Templates are aligned to and follow the PMBOK® principles.

(Although the PMBOK®7 no longer specifies which plans and documents must be created, the templates are adjusted and still remain usable. A corresponding statement can be found in the PMBOK®7 itself.

Complete structure of your plan including all common chapters.
Increased likelihood that your finished document will receive the approval of your client.
Best of all, less stress at the start of your new project.
Everything you need for your successful project in one set
Name:

Project Management Templates

Description:

The set is packed with over 40 different plans, documents, and registers. They will help you to be an efficient project manager and to develop your documents fast with little effort.

The templates are based on the PMBOK®.

All templates are in MS Word or MS Excel format and can be edited on PC or MAC in MS Office or other software, such as Open Office or Office Libre.

Suitable for students and experienced project managers. Big time saver!

Author:

Marc Arnecke, PMP - ARMACO

Created:

05/10/2013

Last Updated:

23/04/2023

File Type:

zip-archive (containing MS Word and MS Excel files)

Rating:

4.8 out of 5 stars (based on 26 reviews)

Delivery info:

This is a digital product. You will receive an email immediately after completing the order process. The email contains your order confirmation and a download link. You can use the link a maximum of three times within 90 days after ordering. Please make sure that you save your template set on your hard drive or other storage medium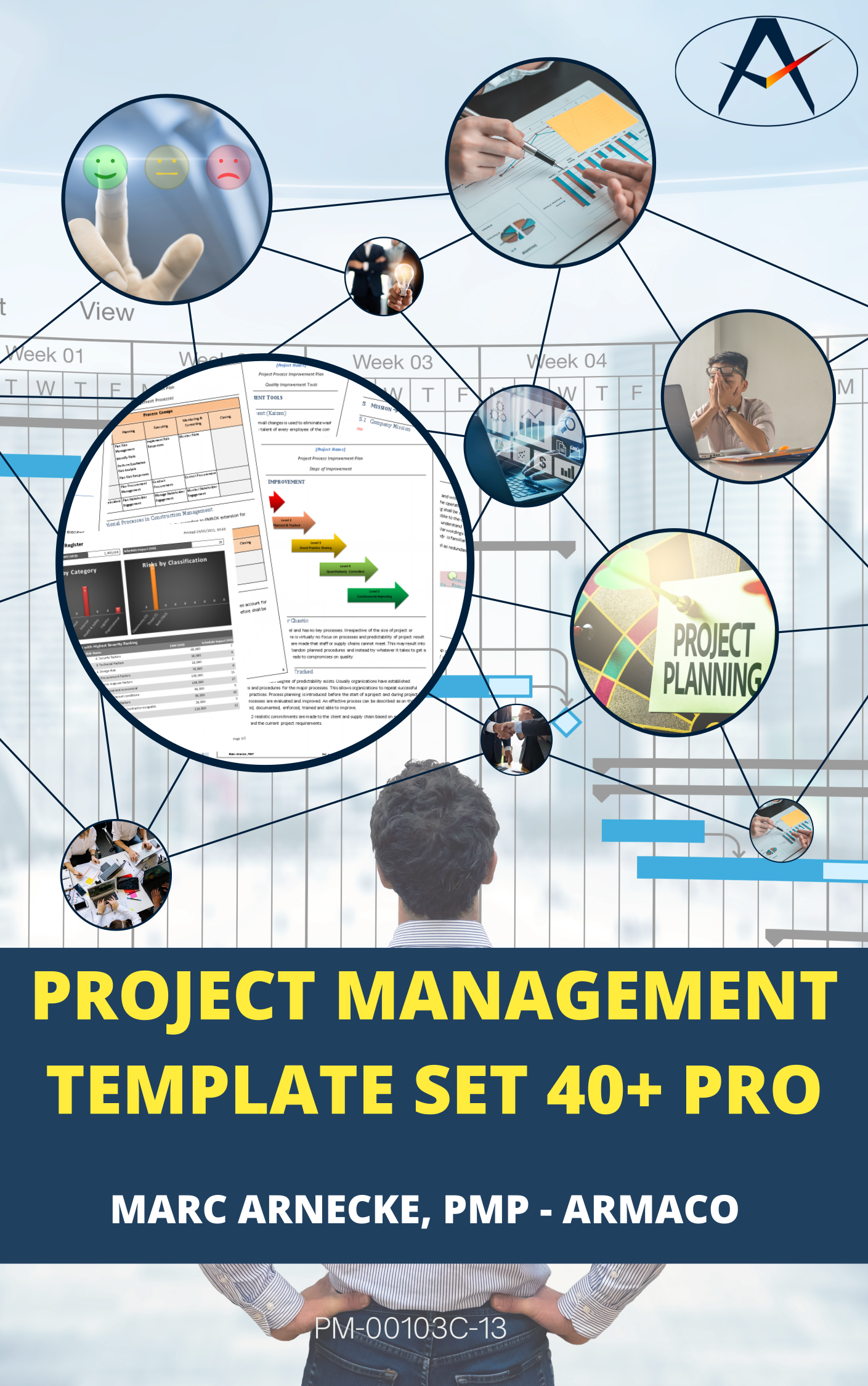 The project plan templates set includes all of the below:
You will save yourself a lot of work and frustration.
With the help of this project plan templates, the task will be easier for you and completed faster. You can use your energy and time better and do more work in less time.
In addition, the structure of the templates helps you to create the complete document without overlooking important parts.
Project charter template
Project management plan template
Change control log
Project mobilization checklist
Lesson learned recording form
Lesson learned register
Post project review template
Project scope management plan template
Project requirements management plan template
Requirements register
WBS register
Statement of works
Project schedule management plan template
Milestone list
Activity list
Duration control sheet
Gantt chart template
Project cost management plan template
Activity cost estimation sheet
Project budget template
Feasibility cost estimation sheet
Project quality management plan template
Process improvement plan template
Testing register
Concrete testing and delivery register
Inspection register
NCR register
Project resource management plan template
Resource breakdown structure
RACI matrix
Project communications management plan template
Performance report
Daily report
Project risk management plan template
Risk register
Project procurement management plan template
Request for a quotation
Requisition order form and register
Vendor evaluation
Project stakeholder management plan template
Stakeholder register
Project financial management plan template
Payment application
Process matrix
Formula collection
Template usage guide
20
Years experience with large projects
?
Weekends you will spend re-inventing the wheel
Risk-free: 60-day money back guarantee - No questions asked
If, contrary to expectations, you are not satisfied, you can cancel your order within 60 days of purchase and your money will be fully refunded automatically.
Download your project plan now and secure another 10% discount
Regular price:

79.99 USD

Reduced price:

29.99 USD
Order before the clock ticks down and secure additional 10% discount.
This offer ends in
What is this template set?
The project plan templates set is a collection of documents that already contain the project plan structure. This structure is given by headings and subheadings. Just like a form, you only fill in the individual sections. Of course, you have the flexibility to change, add or delete headings if individual sections do not apply to your project. Everything is 100% editable. Your documents, your branding...
The structure helps you to simplify your work, which saves you a lot of time and consequently money.
Headings and sub-headings predetermine the most important contents of the project plan, even here and there a bit standard text. That means a perfect quick start with high confidence and less stress.
Predefined document structure and design simplify your work and help you to get real work done. Therefore, you can focus attention on collecting and developing the actual document content.
A lot of time is saved and can be used otherwise. Every minute saved is money saved.
Thus, you already resolved a considerable part of your question "how to write a project plan" by downloading and using the project plan templates.
Here a few explanations about some of the project plan templates
Project Charter Template
The project charter is an output of the process "develop project charter" and is a document issued by the project sponsor that formally authorizes the existence of a project and provides the project manager with authority to apply organizational resources to project activities.
Project Management Plan Template
The project management plan PMBOK® is defined as the document that describes how the project will be executed, monitored and controlled. The project management plan has to align with a portfolio or program management plan (if any) and is an output of the "develop project management plan" process.
Requirements Management Plan Template
The Project Requirements Management Plan is a component of the Project Management Plan that describes how requirements will be analyzed, documented and managed.
Feasibility Estimation Template
The Feasibility Cost Estimation sheet is an Excel sheet used to determine the economic feasibility of a project, more specifically the cost of a construction project.
Scope Management Plan Template
The Project Scope Management Plan is a component of the Project Management Plan that describes how the scope will be defined, developed, monitored, controlled, and verified.
Schedule Management Plan Template
The Project Schedule Management Plan is a component of the Project Management Plan that establishes the activities for developing, monitoring, and controlling the project or program.
Milestone List
A list identifying of all project milestones (a point in time at which something specific has to start or end).
WBS Dictionary Template
A document that provides detailed deliverable, activity, and scheduling information about each component in the work breakdown structure.
Gantt Chart
A Gantt chart is a graphical depiction of a project schedule. It's is a type of bar chart.that shows the start and finish dates of several elements of a project that include resources, milestones, tasks, and dependencies.
Cost Management Plan Template
The Project Cost Management Plan is a component of the Project Management Plan that describes how costs will be planned, structured, and controlled.
Request for Quotation Template
A request for quote also known as an RFQ is a type of document used to ask potential vendors for the provision of specific material or services. The request for quote template provides all of the information about the requirements of the project.
Activity Cost Estimation Template
The activity cost estimation sheet is a tool for used for the approximation of the cost of a certain activity that aggregates to the total cost of a deliverable and consequently to the entire project. The sheet is the product of the cost estimating process.
Budget Template
The project budget sheet is a financial plan for the project life cycle period. The sheet is the product of the determine budget process.
Quality Management Plan Template
The Project Quality Management Plan is a component of the Project Management Plan that describes how the organization's quality policies will be implemented.
Process Improvement Plan Template
The Project Process Improvement Plan is an optional subsidiary plan of the Project Management Plan.
It details the steps for analyzing processes to identify activities that enhance their value.
NCR, Testing and Inspection Registers
Templates for the control of quality features such as non-conformity, material testing, carried out inspections and generation of quality statistics.
Resource Management Plan Template
The Project Resource Management Plan is the component of the Project Management Plan that provides guidance on how project resources should be categorized, allocated, managed and released. It may be divided between the team management plan and physical resource management plan according to the specifics of the project.
RACI Chart Template
A RACI Chart is used to clarify roles and responsibilities in an organization. It is a table that provides a list of activities and information about roles different people have in relation to those activities. For each activity, different people have designated a letter in the acronym "RACI".
Procurement Management Plan Template
The Project Procurement Management Plan is a component of the Project Management Plan that describes how a team will acquire goods and services from outside of the performing organization.
Vendor Evaluation Template
Template for the process of evaluating and approving potential suppliers. The aim of the process is to ensure that a portfolio of first-class suppliers is available.
Risk Management Plan Template
The Project Risk Management Plan is a component of the Project Management Plan that describes how risk management activities will be structured and performed.
Risk Register Template
The Risk Register was created and used to record and update the results of risk analysis and risk response planning. The Risk Register includes a dashboard that provides overview over the current situation.
Communications Management Plan Template
The Project Communications Management Plan is a component of the Project Management Plan that describes how, when, and by whom information will be administered and disseminated.
Daily and Monthly Report Templates
Templates for communicating progress, status, resources, risks, controls and other relevant project information.
Stakeholder Management Plan Template
The Project Stakeholder Management Plan is a component of the Project Management Plan that identifies the management strategies required to effectively engage stakeholders. The level of details can vary based on the needs of the project.
Post Project Review Template
The Post Project Review - also called the Post Implementation Review - is a summary and comparison of the original demands of the project and what the actual result is. Many projects are organized in phases. It is advisable that a review is also carried out when a phase gate is reached and the project moves from one phase to the next.
Financial Management Plan Template
The Project Financial Management plan is a component of the Project Management Plan that identifies all financial requirements of a project and the means to finance them.
Payment Application Template
A template that is used to present the project progress and all additional services in detail for approval and billing.
How to write a project plan in 10 steps?
The project planning process can be difficult, especially with increasing project complexity. According to a Forbes study, 25% technology projects fail early, which is bad statistics for project managers. The good news is that there are ways to plan a successful project launch in a short time. Project managers need to understand how to write a project plan.
1. Discuss the project with the key stakeholders
Collect, understand, and agree their requirements. The "what" and the "why" are thus defined and agreed. The requirements must be recorded in writing in the order of their importance and the influence of the stakeholder. Without this clear agreements, specifications, tasks and deadlines that you set for your project plan will have no basis.
2. Create a scope document
After the requirements for the project and the desired results have been recorded, it is time to create a project scope document in which the individual project elements are listed. All elements must be described clearly, completely and unambiguously.
3. Create a detailed project schedule
After requirements, milestones and the scope of the project have been set, it is time to insert project information into a schedule. A Gantt chart is a practical tool that you can use to easily visualize the project timeline. It is an instrument that gives you a complete overview of the project progress, the scope of work and the dependencies.
4. Define roles, responsibilities and resources
Resources are the people, equipment and material that are required to complete your project. Particular caution and care is required here. Delays in project execution are very often due to the fact that production rates and therefore the number of resources required are not adequately estimated. You also have to consider where you get the resources from, when you need them and, depending on the availability, when you have to order them. Describe this part with all the details in the project procurement plan.
5. Create the project budget
Now that you know exactly what to do, how long it will take and which and how many resources you need, you can now create a cost plan relatively easily. Provide a certain contingency and present it separately.
6. Define and describe the communications process
McKinsey says employees spend almost 20% of their time looking for and collecting information. In addition, inefficient communication and collaboration are two of the main causes of stress at work. If stakeholders and employees have to constantly search through series of emails or constantly ask for updates, they become frustrated and their motivation drops. It is therefore extremely important to collect all data and information in a controlled environment, where they are easily accessible and can be kept up to date. In addition, to maintain a good relationship, it is essential to agree on report content and deadlines and to adhere strictly.
7. Develop a project quality management plan
Develop strategies to ensure the quality of both the end product and all individual processes for manufacturing the product. Also describe how you intend to constantly improve the processes.
8. Now do a risk assessment
Go through all the previous points again and evaluate with your team what could go wrong. Think about how likely a risk is and what the impact on the schedule, costs and project product could be. Develop strategies for dealing with each individual risk.
9. Develop monitor and control strategy
Go back to each of the above and describe how you want to monitor and control each plan.
10.Obtain approval
Now that your plan is complete, let your project sponsor approve it and authorize you to carry out the project.