Project reports are a burden for some project managers. Are you one of them? I can help you to ease this task.
A project report daily, weekly, and monthly should be part of your routine activities if you are managing a project – like it or hate it. Preparing a project report must not be difficult and can be achieved without spending a lot of time and effort.
For whom are these templates?
The project reporting templates offered on this website are suitable for students as well as for experienced project managers.
What is the benefit of using this templates?
All templates offered on this website will help you in your task and save you a lot of time and work for a very small price.
The subject of project management is very important to me. Therefore I would like to give you my most requested template FREE.
Tell me where to send it...
Your email address will never be shared with third parties. It will only be used to send you a few samples today and in the next few days.
Daily Project Report - an Obligation in certain Countries
Did you know that in some countries there is a binding obligation for the project manager to regularly record certain project data?
Even if neither is the case, in your interest, I recommend that you prepare a daily report. It doesn't have to be a lot of work and it's not complicated at all with the right templates.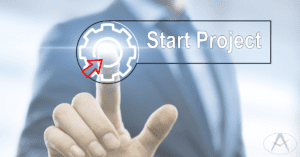 Importance of a Project Report
Depending on the project type and your role, you may be obliged to prepare a project report regularly in some countries. The daily project report can be the most important documents that is regularly created in the course of a project.
A daily project report is used to document the project supervision. All project conditions are regularly recorded in it. In this way, all processes during the project execution phases can be traced. Should there be any defects or disagreements after the completion of the project, the project file and the reports can help to clarify and find those responsible.
A daily diary is often managed by the architect or the independent project manager. Private builders, general contractors, or property developers are not obliged to keep a daily diary, although, with such a large investment as a real estate it makes sense to properly document the process of executing the project. A separately commissioned expert can do this for you and, if you wish, keep daily records and monitor the construction site.
Even if you are not obliged to prepare a daily project report, read your contract carefully. Your employer most certainly expects a daily, weekly, and monthly project report. Preparing a project report furthermore is also in your interest if there are any disputes or claims.
How to Prepare a Project Report
Are you one of those people for whom creating the daily report is a burden? There are different reporting methods and it always depends on the expectations and requirements, both on the legal side and on the part of the client. While special software is often used for large projects, you can still find handwritten diaries.
I believe that handwritten diaries should be phased out slowly, the purchase of software on the other hand can be expensive, as there are often monthly or annual recurring costs. At the same time, with a good template, you can prepare good reports quickly and easily in common available office applications.
Based on my experience, however, I advise against individual files such as Word or PDF files, as these are difficult to analyze if necessary. What do I mean by that? Individual files often contain a lot of data. What the project manager needs, however, is not data, but information.
If preparing reports is a burden for you, it could be due to one of the following problems:
Daily project reports are created manually, which is time-consuming. Don't be surprised how many project managers still use this method.
The contents are not clear and agreed upon.
The report is created in text form as an email.
The report is typed into a PDF or Word form.
The report is not read or taken note of.
If one or more of the points mentioned above sound familiar to you, then you should think about how to fix this. If you are interested, you can try out my project report templates. With it, you can prepare your reports in a very short time without much effort. Everything is arranged and the complete report is easy to create. The best thing is that you can easily save it as a PDF and distribute it via email or cloud.
What is the Purpose of a Project Report?
The project manager can be legally obliged to prepare a project report.
If data is collected and processed cleverly, information can often be read easily from it that is otherwise not so quickly recognizable at first glance. I mean certain connections between progress and number of resources etc.
The reports become part of the project file, which describes the exact course of the project. The project file is used to document the building of a construction project with all its features.
The project manager is obliged to prepare the reports concerning the agreed conditions in the contract. He/she should record the status and progress, involved resources, inspections, incidents, as well as all other notable events in the process without gaps. Entries are often used for later clarification of events, assessment of additional claims, obstacles that have occurred, reasons for delays and cost overruns, etc.
What is the Contents of a Project Report?
While the form of the project report is not specified, there are, usually, precise expectations on the project report content.
A report only contains facts and data. If for whatever reason, assumptions have to be entered, these must be marked as such. The report must be updated regularly. At best, it should be filled daily.
These are the common necessary contents:
Project name and client,
Date of entry,
Information on general construction progress,
Information on the current weather,
Ressources on the construction site (companies, workers, equipment, material);
Information about new material deliveries and their inspection,
Records of construction defects, damages, malfunctions, or deviations from the norm,
Instructions,
Acceptance records of completed construction sections or parts of construction sections,
Signatures.
The complete construction documentation also includes other documents such as photos, as-built plans, test reports, datasheets, etc.
How to prepare a Project Report in Microsoft Excel
I'll give you easy-to-use project report templates that will meet the needs of 99% projects. The project report templates are made in MS Office and can be easily updated in MS Excel, Word, or OfficeLibre.
Fast and Easy Reporting
Who preparing a report is boring and takes a lot of time? Well, it can be true, depending on how you prepare your report. With my project report template, however, you can do this quickly. Honestly, I enjoy preparing the daily report at the end of a busy day.
All report templates are created in MS Office. I am certain you already have the necessary software on your computer to fill in the data.
Just like the report itself is divided into different sections such as weather, manpower, equipment, material, HSE, quality, planned vs. actual progress, etc., the Excel file has a few different sheets. With a few mouse clicks and in no time, you can fill out the sheets, which contain short, clear, and simple tables.
In principle, you can even save these sheets in separate files, share them on Dropbox or the like, and certain team members fill out their sheets at the end of each working day.
When all team members filled their tables, you enter the current date in the actual report form, it pulls the data from the tables, and you save the report as a PDF.
Job done…!
Convert Data into Information
This is probably the greatest advantage of this daily report templates.
During many project, there are certain claims at some point, which require substantiation.
Sometimes or you are faced with a situation of having to defend yourself against a claim such as liquidated damages.
If you record every day what materials were delivered, what resources were available, what the weather was, etc., etc. then it should be easy to draw certain conclusions and compare them with one another.
This is a great advantage and a strength in Excel compared to reports that are created in a separate file every day.
Prepare Today for Tomorrow
Even in 2021, the reality is that reports are often written by hand or created in MS Word, then printed, signed, and scanned.
In addition, it happens again and again that different team members report different data. That shouldn't happen anymore today. If you now come into the situation to deal with a claim as described above, it can be very difficult.
On the contrary, if you have all the data in tables, then it is easy to generate diagrams from them and compare them, or filter and export data or make calculations automatically.
The Excel tables are your single source of truth and no further data is required that could make contradicting statements.
Optimize Every Aspect of your Project
Leading a project doesn't just mean delivering a good product that meets customer needs. The process of how the project was implemented is also of great importance. Preparing the project file with all its contents is always a part of it.
Be Compliant with legal Requirements
Preparing a daily report is a legal requirement in many countries. Even if not, at least your daily report will precisely record the history of the project and possibly protect you and your company from financial losses later.
The required content is simply entered in different tables every day, which enables future analysis of collected data. Once all tables are updated, only the current date is entered on the actual report and the report automatically fills the individual fields.

20
Years experience with large projects
?
Weekends you will spend re-inventing the wheel
Were these people all wrong?
Why don't you form your own opinion about my templates risk-free?
What do buyers say about my templates?
Good
The structure of your plan is well-organized, making it easy to navigate and understand. It's a testament to your expertise.
Best ever seen
Very good and very profitable
Good Template
Use the template for your business
Exactly what I needed
I have been using these for a couple of month now and I LOVE THEM. I was sent a couple of the forms by a friend, so this is me "ordering the complete set" for what I've got coming up next.
Cindy
I love your templates. Unfortunately, I'm not in the construction trade so a few of the included templates aren't for me, but the rest are great and a huge time saver. You saved me many hours of work. In this respect, the price is more than justified.
Response from World of Project Management
Hello Cindy,
Thanks for your feedback!
I'm happy to hear that my templates have been of help to you, even though some are specific to the construction business.
All the best with your project!
Best regards,
Marc
Learn more about the easy to use Project Report Templates
Check the project report template details now...
More than a Project Report, optimizing every corner of your project!
Preparing a daily project report is a legal requirement in many areas. Even if not, at least your daily project report will precisely record the history of the project and possibly protect you and your company from financial losses later.
Please feel free to contact me for support, questions and individualized project report, and other templates.