Strong projects need solid planning. Don't waste your time creating new documents from scratch. A professional set of tried and tested project plan templates is available for you in under 3 minutes and is only a few mouse clicks away.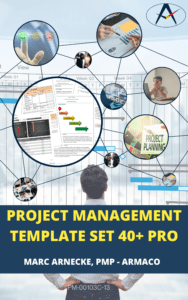 Summary - Project Plan Templates PRO set
This Project Plan Templates Set contains the complete structure and necessary templates of a complete project plan and thus simplifies the start of a new project immensely. You will save a lot of time and effort and you can be sure that you do not forget any essential subject. Why would you start from scratch when a good amount of work is already done for you?
Save time, effort, and consequently money. With this project management template set, you choose a perfect project start. Obtaining this project management template set is an important step towards creating your next project management plan and successfully executing your project while staying in full control.
Template description
Name:

Project Plan Templates Set - PRO 3.0


Description:

Set of project plan templates, documents, registers, and forms. 40+ templates in total. Easy to use for project management beginners and experienced project managers. The templates have been created since 2013 and continuously improved. All templates are fully editable with MS Word, MS Excel or with open office solutions such as OfficeLibre.

Author:

Marc Arnecke, PMP

Created:

07/11/2013

Last updated:

19/07/2021

File type:

MS Word and MS Excel file(s) packed in a ZIP-archive. All files are fully editable.

Reduced Price*:

29.99

USD

Normal Price:

79.99

USD

Delivery info:

This is a digital product. You will receive an email immediately after completing the purchase process. The email contains your order confirmation and a download link. You can use the link a maximum of three times within 60 days after ordering. Please make sure that you save your template set on your hard drive or another storage medium.
Exactly what I needed
I have been using these for a couple of month now and I LOVE THEM. I was sent a couple of the forms by a friend, so this is me "ordering the complete set" for what I've got coming up next.
Response from World of Project Management
Hello M.K.,
Thanks for the positive feedback.
Please contact me for improvement suggestions.
BR Marc
Cindy
I love your templates. Unfortunately, I'm not in the construction trade so a few of the included templates aren't for me, but the rest are great and a huge time saver. You saved me many hours of work. In this respect, the price is more than justified.
Response from World of Project Management
Hello Cindy,
Thanks for your feedback!
I'm happy to hear that my templates have been of help to you, even though some are specific to the construction business.
All the best with your project!
Best regards,
Marc
Fast and easy to use
I quickly needed a complete project management template package for a new project that is about to start. I found exactly what I needed on this website. All individual templates are coordinated with each other and have a consistent design. This is a big advantage. I've tried getting free templates before but they weren't that complete, from different sources and therefore inconsistent design. I am absolutely satisfied with what I got for my money and saved a lot of time and work as promised. Thank you, keep it up.
Response from World of Project Management
Hello G.K.,
I'm glad the templates met your expectations. All the best with your project!
Best regards,
Marc
Very decent work, complete, good support, amazingly cheap
I have to admit that I struggled with myself whether or not I should spend money on something that you can apparently get for free elsewhere.
In the end I decided to buy and I don't regret it. The set is very complete and all templates are well geared for each other. Templates are very easy to use and I received uncomplicated support quickly. I ordered a few additional project-specific custom made templates, which I received very quickly and which were just as easy to use.
Possibly I could have found and used free templates, but they would probably be less geared to each other, less or no support and from different sources. The associated additional effort on my part would have cost me a few extra hours of work, so I am more than happy with the price paid.
Absolutely recommendable!
Response from World of Project Management
Dear Steve,
Thank you for your trust, business and of course for your very positive comment. It gives me motivation to improve my templates further, to add more templates and of course I am still available for support at any time.
Best regards,
Marc
These templates got me started and actually increased my productivity
I haven't regretted buying your templates a couple of weeks ago.
There are similarly priced packages on the market that contain more documents. However, after taking a closer look, I realized that the other packages often contain many documents twice that only differ in design. After some online research, I found a couple of worldwide projects you managed, so I was sure that, by buying your templates, I would benefit from your many years of experience too.
I am completely happy with my templates and can absolutely recommend them.
Response from World of Project Management
Thank you for your positive feedback. I'm glad that I could help.
BR,
Marc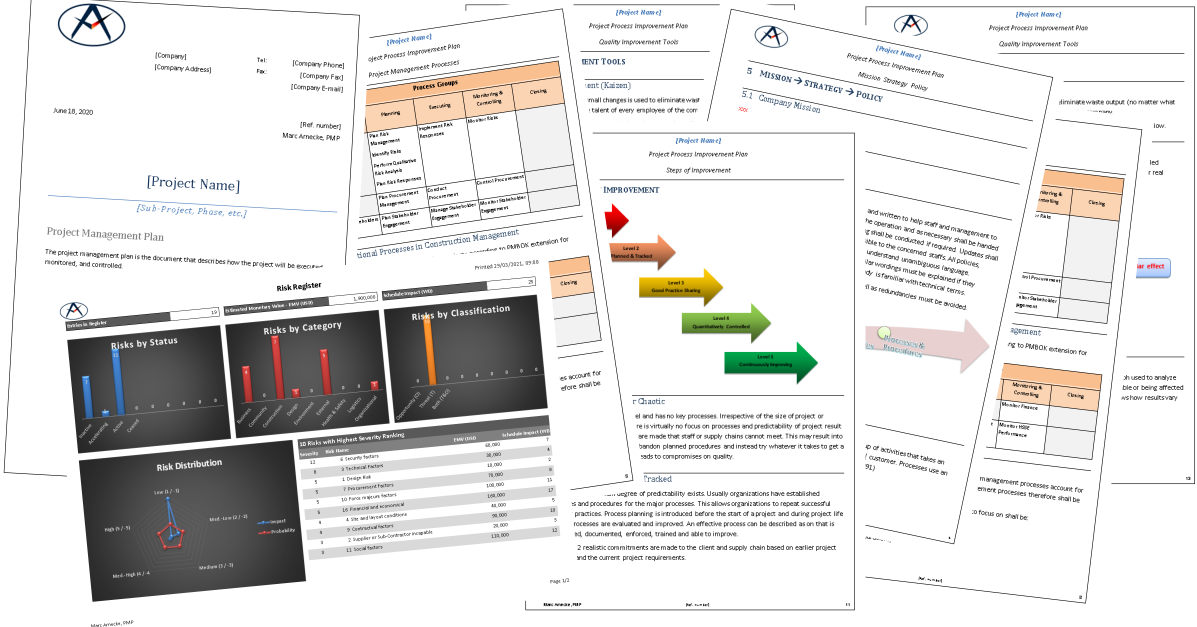 Content of this Project Plan Templates Set
With this template set you get all of the below:
Project charter template
Project management plan template
Change control log
Project mobilization checklist
Lesson learned recording form
Lesson learned register
Post project review template
Project scope management plan template
Project requirements management plan template
Requirements register
WBS register
Statement of works
Project schedule management plan template
Milestone list
Activity list
Duration control sheet
Gantt chart template
Project cost management plan template
Activity cost estimation sheet
Project budget template
Feasibility cost estimation sheet
Project quality management plan template
Process improvement plan template
Testing register
Concrete testing and delivery register
Inspection register
NCR register
Project resource management plan template
Resource breakdown structure
RACI matrix
Project communications management plan template
Performance report
Daily report
Project risk management plan template
Risk register
Project procurement management plan template
Request for a quotation
Requisition order form and register
Vendor evaluation
Project stakeholder management plan template
Stakeholder register
Project financial management plan template
Payment application
Process matrix
Formula collection
Template usage guide