Do you want to write a comprehensive Project Management Plan without unnecessary work and without having to waste your weekends on it?
Your benefits:
Big time-saver
Task simplification, easy to understand
Start to end - complete document structure
Suitable for students and experienced project managers
100% editable - your logo, your name, your branding
Ready to use
40+ Plans, Register, Documents, and more
PMBOK® aligned
Over 20 years of experience with large projects
60 days easy 100% refund policy
Tell me where to send your FREE sample
What do recent users say?
Download your Comprehensive Project Management Template Set and Stop Wasting Your Precious Time
Decide now for the easiest way with my template set. Money back if not satisfied.
Imagine, you are entrusted with the management of the next project, which is so immensely important for your organization. Consequently, many questions regarding how to write a project management plan will come to your mind.
What is the exact scope of work?
From where do I get the resources?
How long is it going to take?
How do I control the budget?
There must be certain risks, what am I going to do about them?
What kind of reports are required and at what intervals?
Who else is involved in the project and what is his/her interest?
Where do I get the material and services from?
How do I ensure the right level of quality?
What do I do if things change?
How to track project and status?
Etc.
This list could be continued on and on and it is immediately clear to you that you need to create a plan. But how to write a project management plan? Where do you start, what are the contents, and how to structure it?
How to write a project management plan is a question that many project managers ask themselves at the beginning of many projects. The project management plan is one of the most important documents that you have to prepare at the beginning of each project.
The project management plan is just one of the documents in the course of a project. This ranges from plans to reports, to registers and other documents. For this, you need a good template set in order not to spend unnecessary time and work, which is very scarce anyway.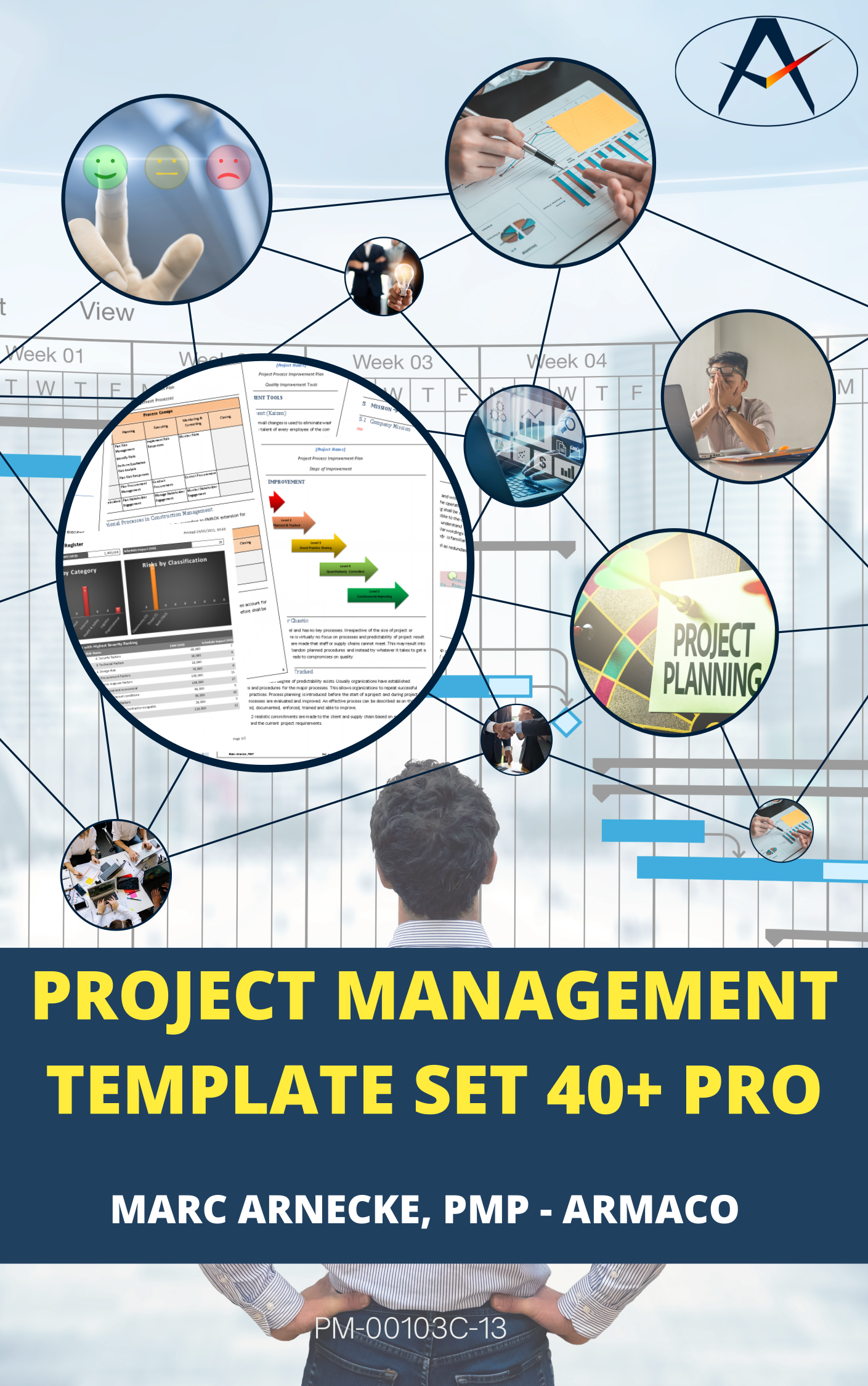 To save you time and effort, I have compiled this highly customizable template set, which has been developed in the course of the execution of many projects and has been improved continuously.
Are You still Unsure How to Write a Project Management Plan?
Becoming a confident, successful project manager is not an easy task - if you're looking for a good start, my project management template set will show you the way. You will gain access to relevant, practical specialist knowledge that will help you lead successful teams and realize high-quality projects.
Whether you are formally trained as a project manager or not, it is your job and your privilege to manage a project for a client. My template set gives you the basic structure of a project management plan and many useful documents and registers that will help you master the daily challenges of project management and develop yourself as a professional in the project management world.
What are the Contents of a Project Management Plan?
A comprehensive project management plan consists of more than 10 subordinate plans. Such individual plans in turn can be more or less extensive. A template for each is included in this set, plus more.
Scope Management Plan
Requirements Management Plan
Schedule Management Plan
Cost Management Plan
Quality Management Plan
Process Improvement Plan
Resource Management Plan
Communications Management Plan
Risk Management Plan
Procurement Management Plan
Stakeholder Management Plan
Financial Management Plan
Health, Safety and Environmental Management Plan
Change Management Plan
and more
Advantages of Templates
Document templates are pre-formatted files that can help you create professional-looking documents quickly and easily. They can save you time, effort, and money by providing you with a consistent layout, style, and structure for your documents. Some of the advantages of using document templates are:
You can avoid starting from scratch every time you need to create a document. You can simply open a template and fill in the required information or customize it as needed.
You can ensure that your documents follow the same branding, formatting, and design guidelines. This can enhance your credibility, professionalism, and identity as an individual or an organization.
You can reduce errors and inconsistencies in your documents by using templates that have been checked and approved by experts or authorities. You can also use templates that have built-in features such as spell-check, grammar-check, and accessibility-check to improve the quality of your documents.
You can increase your productivity and efficiency by using templates that have automated functions such as calculations, charts, graphs, tables, and fields. You can also use templates that have macros or scripts that can perform complex tasks with a single click or command.
You can share and collaborate on your documents more easily by using templates that are compatible with different platforms, devices, and applications. You can also use templates that support cloud-based storage and editing to access and update your documents from anywhere and anytime.
Contents of my Project Management Template Set
The project management plan is actually a generic term for a set of sub-plans that you have to create for your project.
With this project management template set you get all of the below:
Project charter template
Project management plan template
Change control log
Project mobilization checklist
Lesson learned recording form
Lesson learned register
Post project review template
Project scope management plan template
Project requirements management plan template
Requirements register
Statement of works
WBS register
Project schedule management plan template
Milestone list
Activity list
Duration control sheet
Gantt chart template
Project cost management plan template
Activity cost estimation sheet
Project budget template
Feasibility cost estimation sheet
Project quality management plan template
Process improvement plan template
Testing register
Concrete testing and delivery register
Inspection register
NCR register
Project resource management plan template
Resource breakdown structure
RACI matrix
Project communications management plan template
Performance report
Daily report
Project risk management plan template
Risk register
Project procurement management plan template
Request for a quotation
Requisition order form and register
Vendor evaluation
Project stakeholder management plan template
Stakeholder register
Project financial management plan template
Payment application
Process matrix
Formula collection
Template usage guide
10 Easy Steps How to write a Project Management Plan
The project planning process can be difficult, especially with increasing project complexity. If you have never written a project management plan before, you will ask yourself how to write a project management plan. According to a Forbes study, 25% of technology projects fail early, which is bad statistics for project managers. The good news is that there are ways to plan a successful project launch in a short time. Project managers need to understand the simple steps of how to write a project management plan.
I am repeatedly asked what the exact process for writing a project management plan is. Unfortunately, I cannot give a clear straightforward answer. Certain sub-plans are interdependent and have to be compared and adjusted with each other.
However, I believe that the 10 steps below should help you get a good result.
Discuss the project with the key stakeholders
Collect, understand, and agree their requirements. The "what" and the "why" are thus defined and agreed. The requirements must be recorded in writing in the order of their importance and the influence of the stakeholder. Without this clear agreements, specifications, tasks and deadlines that you set for your project plan will have no basis.
Create a scope document
After the requirements for the project and the desired results have been recorded, it is time to create a project scope document in which the individual project elements are listed. All elements must be described clearly, completely, and unambiguously. Divide the scope into easy-to-manage packages and further break them down into activities.
Create a detailed project schedule
Now that the scope of the project has been set, it is time to insert project information into a schedule. A Gantt chart is a practical tool that you can use to easily visualize the project timeline. It is an instrument that gives you a complete overview of the project progress, the scope of work, and the dependencies.
Define roles, responsibilities and resources
Resources are the people, equipment and material that are required to complete your project. Particular caution and care is required here. Delays in project execution are very often due to the fact that production rates and therefore the number of resources required are not adequately estimated. You also have to consider where you get the resources from, when you need them and, depending on the availability, when you have to order them. Describe this part with all the details in the project procurement plan.
Create the project budget
Now that you know exactly what to do, how long it will take and which and how many resources you need, you can now create a cost plan relatively easily. Provide a certain contingency and present it separately.
Define and describe the communications process
McKinsey says employees spend almost 20% of their time looking for and collecting information. In addition, inefficient communication and collaboration are two of the main causes of stress at work. If stakeholders and employees have to constantly search through series of emails or constantly ask for updates, they become frustrated and their motivation drops. It is therefore extremely important to collect all data and information in a controlled environment, where they are easily accessible and can be kept up to date. In addition, to maintain a good relationship, it is essential to agree on report content and deadlines and to adhere strictly.
Develop a project quality management plan
Develop strategies to ensure the quality of both the end product and all individual processes for manufacturing the product. Also describe how you intend to constantly improve the processes.
Now do a risk assessment
Go through all the previous points again and evaluate with your team what could go wrong. Think about how likely a risk is and what the impact on the schedule, costs and project product could be. Develop strategies for dealing with each individual risk.
Develop monitor and control strategy
Go back to each of the above and describe how you want to monitor and control each plan.
Obtain approval
Now that your plan is complete, let your project sponsor approve it and authorize you to carry out the project.
Contact me if you need support.
Ready to Start your Project?
Love it, hate it, like it...
What do buyers say about the template set?
Good
The structure of your plan is well-organized, making it easy to navigate and understand. It's a testament to your expertise.
Best ever seen
Very good and very profitable
Good Template
Use the template for your business
Exactly what I needed
I have been using these for a couple of month now and I LOVE THEM. I was sent a couple of the forms by a friend, so this is me "ordering the complete set" for what I've got coming up next.
Cindy
I love your templates. Unfortunately, I'm not in the construction trade so a few of the included templates aren't for me, but the rest are great and a huge time saver. You saved me many hours of work. In this respect, the price is more than justified.
Response from World of Project Management
Hello Cindy,
Thanks for your feedback!
I'm happy to hear that my templates have been of help to you, even though some are specific to the construction business.
All the best with your project!
Best regards,
Marc
20
Years experience with large projects
?
Weekends you will spend re-inventing the wheel